Hundreds of Norwegian Muslims formed a circle around a Synagogue in Oslo to show their support to the Jewish community.
In a symbolic gesture of protection of Jews in Norway, over 1,000 Muslims formed what they called "a ring of peace" around a synagogue in Oslo, chanting "No to anti-Semitism, no to Islamophobia".
[ezcol_1half]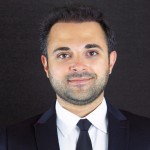 Latest posts by Hakim Khatib
(see all)
[/ezcol_1half]
The demonstration comes as a condemnation against a terrorist attack by gunmen against a synagogue in Denmark last week.
"I believe in strong values such as love, freedom and unity," said Hajrah Arshad, 17, one of the event organisers. "Today we would like to show that Islam stands for peace," she added.
Zeeshan Abdullah, another organiser told the crowd: "There's still hope for humanity, for peace and love, across religious differences and backgrounds."
Jews and Muslims stood side by side in a demonstration that religions can live peacefully together. They say that Muslims and Jews are victims of hate crimes and they should support each other.
Ervin Kohn, president of the Jewish community in Oslo said to the crowd: "I was asked after the attacks in Copenhagen, what do you feel? And I answered: Sorrow and anger. But my answer today is: I feel gratitude and hope."
Jewish community numbers around 1,200 in Norway, while Muslim community numbers around 200,000. Norway's total population is around 5.2 million.
---