The President of Egypt Abdulfattah Al-Sisi expressed his concerns about what he called the "true image of Islam".
In an interview on Al-Quran Al-Kareem (The Holy Quran) Radio, Al-Sisi endorsed the role the radio has played in enlightenment and spreading the "true image of Islam" since its foundation in the 60s.
[ezcol_1half]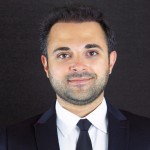 Latest posts by Hakim Khatib
(see all)
[/ezcol_1half]
Al-Sisi added that everyone would be asked and punished for what they have done or said especially when it comes to issues related to religion. He stressed that Muslims should stop their offensive practices in the name of religion in all countries.
"Muslims should see what they are doing to humanity. No nation could carry out such practices. Religion is far from such practices," Al-Sisi warned.
"We need to pause and take a deep look at the situation of the countries of Muslims and at the practices and behaviour of Muslims."
"We ought to re-evaluate our thought and understand our position starting from Afghanistan to Pakistan, Iraq, Syria, Libya, Yemen, Egypt, Nigeria and Somalia."
Al-Sisi poses the contradiction between the Islamic rhetoric of peace and the practices of Muslims all over the world. "We are presenting a negative image about ourselves for the whole world and we say this is religion, but is it? Al-Sisi added.
Al-Sisi concluded that a religious revolution is needed to reform religion and stressed that the verses of Quran and sayings of the prophet of Islam urge people to think and revive. He also called Islamic clerics and scholars to stress on concepts such as mercy and compassion instead of spreading fear and intimidation.
Please listen to the interview in Arabic.
---