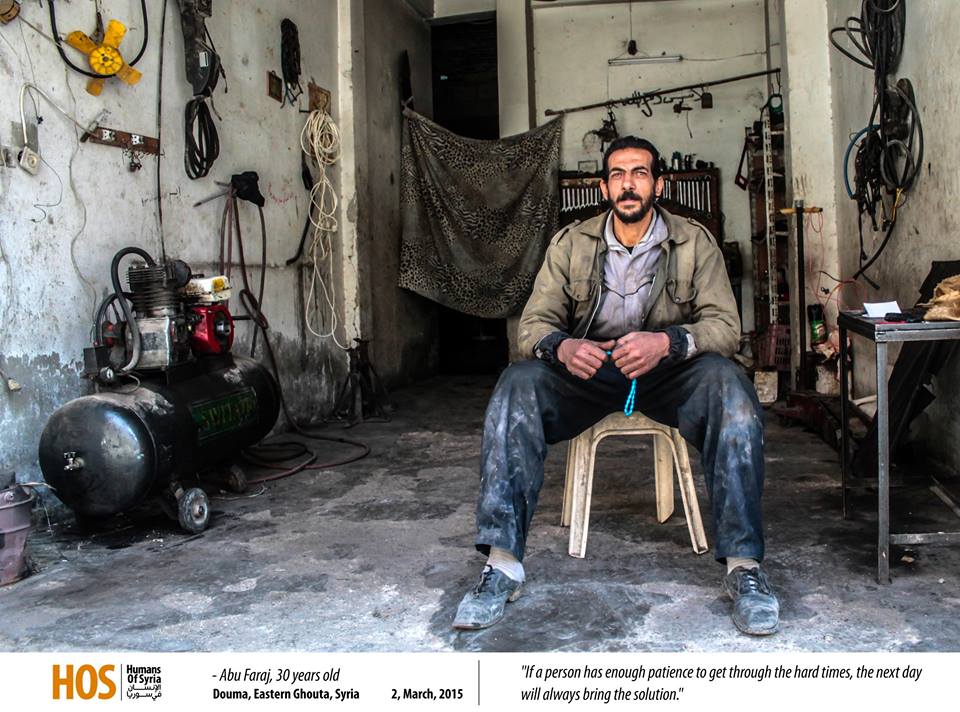 "Humans of Syria" initiative could reach boundaries beyond war. They approached the human in the Syrian conflict that each one of us should learn about such as Abu Faraj, aged 30, who has been living under siege in Douma in the eastern countryside of Damascus for the past two years. Here is Abu Faraj tells his story:
On 25 March 2011, I participated in Douma city's first sit-in. At midnight, the security forces came to break it up, and I got clubbed so hard on the head that I lost my memory. I was arrested and of course the investigators wouldn't believe I'd lost my memory, so they tortured me non-stop for seven months. I was sent through most of the Syrian security branches and I was usually put in solitary confinement.
You can't imagine how hard those nights were. I couldn't remember where I'm from or why they were torturing me. I was sitting alone in a dark in cold cellar. I don't know how many times I wished I was dead, but something inside me made me cling to life. After my jailers got tired of torturing me I was transferred to Adra central prison near Damascus. I stayed there for a year until my trial came on. I was acquitted.
When I was released from prison in January 2013, I found out Douma had been liberated from regime forces. I decided to move there and join the Free Syrian Army. I said to myself that it's time to take revenge against those who have been torturing me for reasons I didn't even know. I took part in many battles, including the liberation of Marj Al-Sultan Airport in Damascus countryside.
Last March, I got knocked unconscious during an airstrike. When I came to, I had completely regained memory. I remembered that I was a mechanic, so I decided to return to my old life and rent this small shop. Sometimes I feel I've lived two lives and was born again. In the second life I think I learned a lot, and I had the patience to overcome adversity. The most important thing I learned was not to lose hope, no matter how big the pain. Because if a person has enough patience to get through the hard times, the next day will always bring the solution.
A week before this photo was taken, his wife had had a baby boy.
They named him Faraj, which means "relief" "comfort" or "remedy".
Abu Faraj means "Father of Relief"
This photo was taken on March 2, 2015
Many thanks to Humans of Syria