A 24-year-old gay Muslim is believed to be the first of his faith to wed in a same-sex marriage in the UK
Jahed Choudhury, who was attacked over his sexuality in the past, grew up feeling ostracised by his community for being gay.
Awkwardly, in an attempt to "change" his sexual orientation, he was sent on a religious pilgrimage to Saudi Arabia and Bangladesh, forced to change his social circle and even take medication.
Choudhury, from Darlaston, Walsall, says: "This is about showing people I don't care. My family… think it's a disease and can be cured, some of my family still call it a phase.
"I want to say to all people going through the same thing that's it's okay – we're going to show the whole world that you can be gay and Muslim."
While homosexuality remains a taboo for traditionalists, Chaudery is believed to be one of the few gay Muslims to be open about his sexual orientation.
Growing up in a traditional Muslim household, Choudhury recalls being the "black sheep" of the family. Exclusion of course doesn't stop there. Choudhury still remembers how hard it was for him to be who he is at school. He recalls: "It went all over school, people would spit on me, empty the rubbish bins on me, call me pig and the Muslim people would shout 'harum' – which is a very nasty insult in my language."
Even the mosque he had attended for 15 years no longer allowed him in. Choudhury felt so excluded from society that he attempted to take his own life. He says he has post-traumatic stress disorder, which makes it difficult for him to face people alone or work.
"I'd been viciously attacked by Muslim boys, my mosque told me non-Muslims were not allowed in.
"I tried killing myself and I then met Sean [his partner]. The housing association got us a house in a week and we've been living together ever since. I proposed on Sean's birthday last June," he adds.
With Choudhury being an open-gay Muslim, he has significantly contributed to both the Muslim and LGBT communities. Perhaps their wedding would help more gay Muslims to come out to their families and friends.
Now married, the couple, who recently returned from their honeymoon in Spain, say they hope to show the world that "you can be gay and Muslim".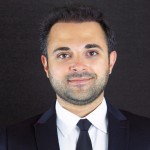 Latest posts by Hakim Khatib
(see all)