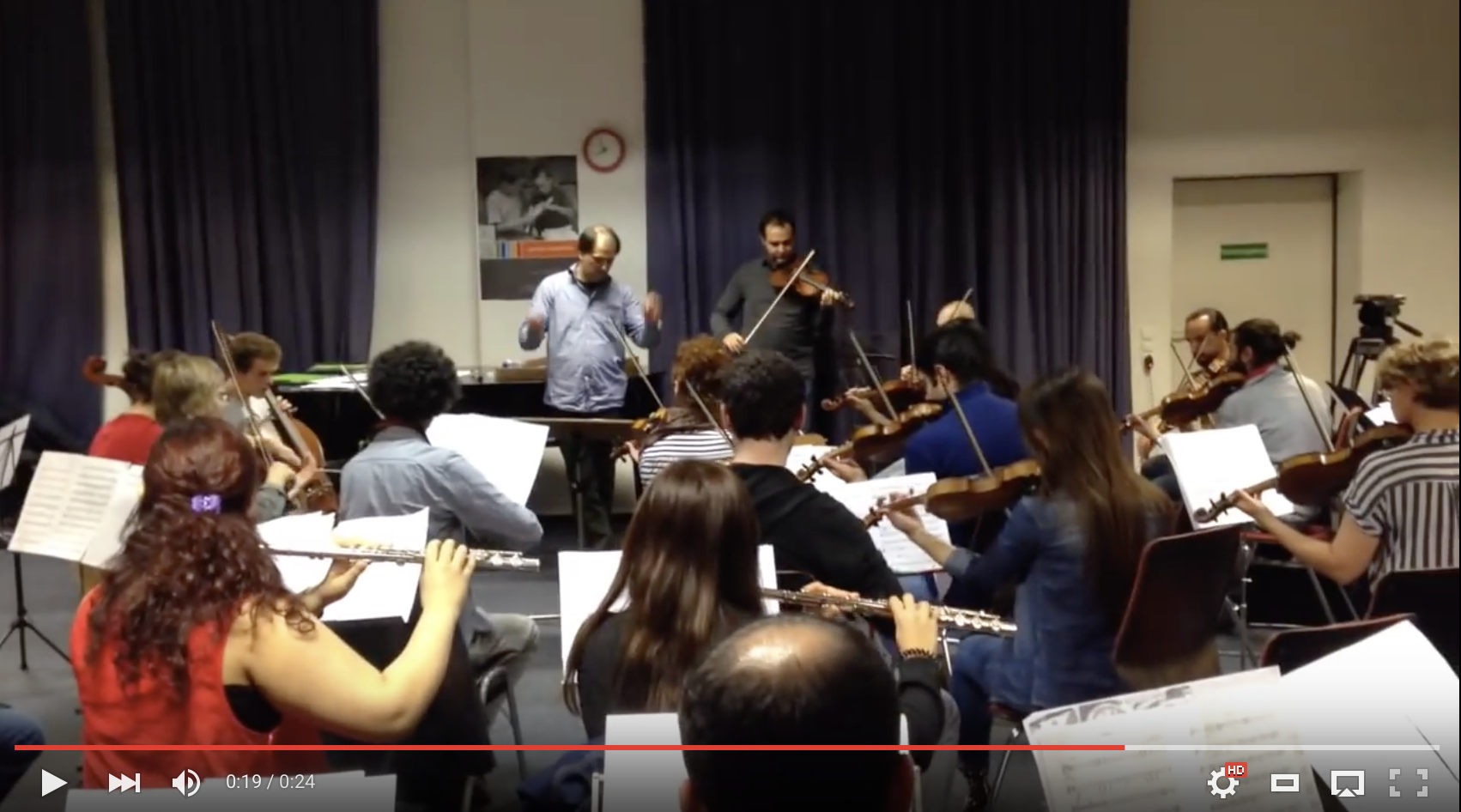 No matter what the Syrian Expat Philharmonic Orchestra plays, it's a song of solidarity.
Founded by musician-activists in Bremen, Germany, the orchestra composed of Syrian and local musicians came together to push back against the fearmongering that has arisen due to the refugee crisis in Europe. Where xenophobes, far-right politicians and others claim Middle Eastern and North African migrants are criminally inclined extremists who want to take European citizens' jobs and freeload off taxpayer-funded social welfare programs, the orchestra features Syrians doing exactly the opposite: sharing their musical gift and giving back to their new community.
"With music we can liberate ourselves from all the designations," said flutist Fadwa Merkhan, who played in the orchestra's first performance on Sept. 22, held in Sendesaal Theater in Bremen. "My biggest wish is for us to be criticized and evaluated as artists, not as poor Syrians trying to stand up for art."
Merkhan's story is typical among the orchestra's members. In 2013, she was studying flute at the Higher Institute of Music of Damascus and psychology at Damascus University when she decided to escape her country's bloody civil war. She fled to Egypt and stayed for more than a year with friends in Cairo before eventually making the trip to Germany, where she bought a so-called conditional student visa that allowed her to remain in the country and take German language courses before applying to German university.
Double bass player Raed Jazbeh conceived of the orchestra three years ago when he received asylum while playing with the Arab Youth Philharmonic Orchestra in Berlin. "I was always planning on founding musical projects earlier in Syria, where the circumstances for music were much more difficult than here," he said.
But as the civil war progressed, Jazbeh realized that he might have a better chance putting together a Syrian musical group in Europe than his native country. Many of his colleagues were sprinkled throughout Europe, trying to use their musical skills to stay away from their war-torn homeland.
"In Syria, the national orchestra is almost empty. Many musicians left because of the war," he said. "So why not to build a Syrian orchestra here in Germany?"
It started when Jazbeh put together a small ensemble of Syrian musicians in Bremen called the Camellia Syrian Ensemble. At one of their performances, a member of the Bremen Council for Integration, a local public agency that helps migrants, heard them and thought their performances were an excellent way to highlight the benefits refugees brought to the community. The council member offered to help Jazbeh expand.
"We wanted to help those Syrian musicians integrate in the German community, by music," said Jasmina Heritani, a member of the council. "It would be an opportunity for Germans to learn more about Syria's rich culture and about Syrians living in German."
From there, it wasn't hard to find musicians. "The number of Syrian musician refugees arriving in Germany is increasing," said Jazbeh. "During the last three months of preparation, I was surprised how many musicians I thought were still in Syria had reached Germany and wanted to join us."
Through the council, Jazbeh fundraised enough money to bring together 30 Syrian players and 20 German musicians who either studied music locally or played professionally in Bremen's philharmonic. A Bremen music conservatory donated rehearsal space and instruments. And local people let the musicians stay in their homes for free.
"At the time of the Nazi regime, thousands of German artists worked in exile," reads the local Integration Council's website. "Today, Germany is a refuge for artists who are looking for protection from war."
For their first performance to a packed audience last week, the Syrian orchestra secured the Sendesaal Theater, a venue with world-class acoustics. Another performance is scheduled for Oct. 3 in Luneburg, Germany.
Because many orchestra members are living in Austria, Holland and other European countries, the musicians only had a few days to rehearse together before their inaugural performance.
"Three days to rehearse is really too few," said Ahmad Qafour, a Syrian bassoon player who has applied for asylum and now lives in Berlin. "We need time to build the soul of our concerts."
But Bremen-based conductor Martin Lentz was thrilled about the performance and said he would gladly work again with the orchestra. The Sept. 22 show was so overcrowded that Jazbeh and Integration Council members had to turn people away. For better or worse, said Lentz, the event garnered attention because of the refugee crisis.
"We are all surprised but happy that the project runs like this," Lentz added. "Of course we didn't know that the number of refugees would rise like this when we started the project half a year ago."
At the concert, audience members weren't charged an entry fee but asked to donate to a fund to help the migrants, and to generate sufficient revenue to pay bills left over from bringing musicians to Bremen.
The musicians played a range of music, including Western classical music and jazz. But they excelled with contemporary Middle Eastern composers like the Jordanian-Canadian Suad Bushnaq, who incorporates modern piano and guitar with Arab instruments and rhythms in her pieces. The arrangements for the night were inspiring and celebratory, fitting themes for musicians who refuse to let events in their country stop their art.
"We're here because of this war," Jazbeh said. "But I want to be regarded in this project as a musician — not a Syrian refugee."
Source: Occupy.com