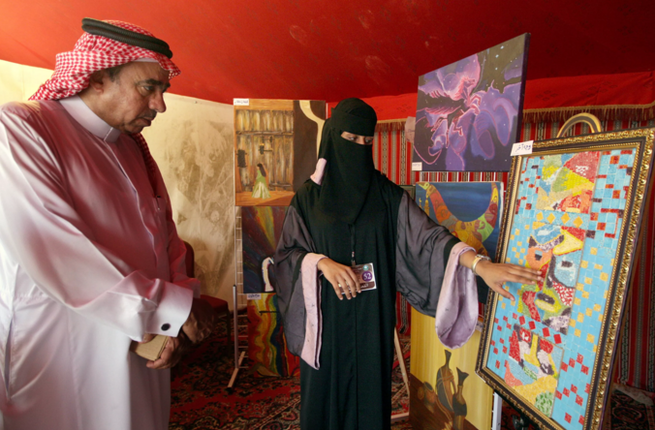 The Kingdom has unveiled plans to showcase the arts and grow its media industry to counter negative stereotypes. The initiatives are part of the wide-ranging National Transformation Program 2020.
"The intention also is to transform the society," Culture and Information Minister Adel Al-Toraifi told reporters on the sidelines of a briefing about the NTP on Tuesday. Under the NTP, a Royal Arts Complex would be developed, as well as a Media City.
Al-Toraifi said although some Saudi artists and performers have exhibited and gained popularity abroad, they "did not find the platform and space to support them" at home.
That will change with the Arts Complex which "would help convey a picture of Saudi Arabia to the world," he said at a press conference.
Similarly, the Media City will develop the production skills of young Saudis and create local content which so far is "very limited", Al-Toraifi said.
"What we're aiming to do is actually to provide institutions that can display their work, that can support them, that can provide them with grants, scholarships, to pursue their dreams of creating art," he said.
The NTP targets 16,100 media and related jobs by 2020, up from 10,000 now. He underlined that the project aims to improve the Kingdom's image and promoting its culture.
"During the last few decades, we have seen accusations and stereotyping about Saudi Arabia," he said.
Asked whether the level of freedom of speech in the Kingdom allows arts and media to flourish, he said Saudi newspapers "every day" carry criticisms of government programs.
Feedback is also important for the NTP's success, he said.
The planned Royal Arts Complex would develop the sector, including providing training for artists and places for them to showcase their work, whether modern or traditional, said Adel Al-Toraifi.
Al-Toraifi said similar projects have been set up in other countries. He said artists have been creating fine art for over 40 years in the Kingdom, with some Saudi artists displaying their creations in galleries abroad. The aim with this complex is to ensure they can do so in their own country, he said.
Al-Toraifi said that Saudi Arabia has many artists, in both comedy and drama, who have become popular throughout the Arab world because of their work in television. However, there has been a lack of support for these creative talents, particularly young people.
According to the 112-page NTP document, the government has set aside SR700,126 over the next five years to oversee the development of the complex including setting up various structures that would seek out funding for its construction.
The building of the complex, the biggest in the Arab region, has been welcomed by citizens as part of the country's development under the NTP, a website reported on Wednesday.
Osama Al-Mulla, director of the arts and culture association of Dammam, said that this was a positive step which would support young people, who make up 60 percent of the Kingdom's population.
Al-Mulla said that citizens were looking forward to the establishment of academies for teaching art, museums, theaters and cinemas.
He urged for more research into the country's art and said there should be greater backing for artists, in contrast with the past when much of their work was forbidden.
He said that the managers of the Royal Arts Complex has a tough task ahead because they have to build a proper infrastructure, launch education programs, set up shows, promote arts and culture, and improve the skills of artists.
He said a major challenge is the lack of an arts movement in the country. However, he was confident that this could be solved because the country has many artists. "Some of them are raw and some skilled. But we need to find them. At the same time it is our duty to counter the fear of arts and artists," said Al-Mulla.
Source: Arab News © 2016 All rights reserved.